From September 3rd to September 18th 3 students, without prior skills other than the "Home Study Program", built and paddled their own birchbark canoe.


---
Scroll from left to right to view pictures. Click on any picture to see enlargement. 'justify'>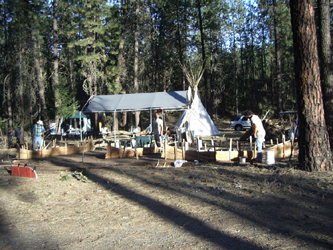 The Site - We were situated less than 100 feet from the bank of the Spokane River, just below 9 Mile Falls. This was within the area of the old N.W. Fur Company Post, The Spokane House. You could feel the history in the area. There was a family of osprey with 2 fledglings in a nest along the river.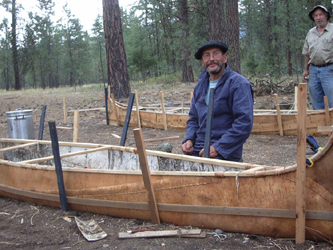 Mayu - Jean-Philippe Mayerat (Mayu) is a wooden boat builder from Lake Geneva, Switzerland. He built his canoe and shipped it back home. Mayu brought cheer to the camp with his French-style accordian music and his Alaskan Amber brand beer.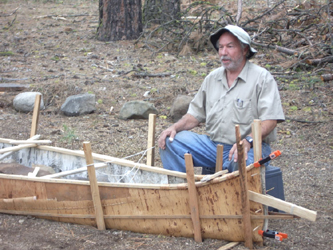 Bill Friday - Bill is from Huntsville, Alabama. A recently retired scientist for the United States Government Bill broke away to live out a long awaited dream.















Mike Dennis and Jay - Mike, originally from New Jersey and currently living in Oregon brought along his good buddy Jay to help him. Jay flew out from northeastern Pennsylvania.

















Long Hours - A labor of love, still the days were busy and long and the guys were tired at day's end.













Each Student Built His Canoe on His Own - This included bending all of his ribs free-hand. It was a long day of careful bending and concentration. To cap it off we had an evening of fiddle and accordian music around a blazing fire with bratwurst sausages and beer!













Careful Attention to Detail - High standards were enforced on each student. Each step had to be done to professional standards, not the standards of a first time effort. The result however was a professional quality canoe that each could be very proud of.















The Final Result - Like kids at Christmas the guys hit the water with their new toys. What fun!














Comradarie - Two full weeks of 10 hour days in the dirt. Go ahead and ask these guys if they are willing to sell their canoes.















Bill's Wabanaki Chiman - He named her Nakoomis and her vital stats are 14'long, 13" deep at center, with a 36" beam.













Mike's Wabanaki Chiman - I guess Mike and Jay had enough kneeling while building. His canoe has basically the same stats as Bill's but with a slightly different sheer and prow design.













Mayu's Oldstyle Canoe - You can see Mayu's skill and creativity as a boat builder in how he did the longitudinal seam. This is a style that was sometimes done with fur trade models. Oh by the way, that is one of the Park Staff in the bow.