The
Bark Canoe Store

Shop Address:
15 East Sinto
Spokane, WA 99202

Mailing Address:
1111 West 10th Avenue
Spokane, WA 99204


(509)327-7902
(office voice & fax)
(509)327-1850 (shop)

barkcanoe@earthlink.net

www.barkcanoe.com
John Lindman
proprietor/builder

Copyright (c) 2010
All Rights Reserved
IN THIS ISSUE
1. News
- Book Review


---
BOOK REVIEW
Last issue addressed videos. In this issue the focus is on books. These will be books not just about birchbark canoes but books that feature them or contain stories of the fur trade or any aspect of the north woods canoe culture. As is usually the case I will no doubt omit some very key books so please drop me a line and let me know. In an upcoming newletter perhaps we can include them and the videos that were left out last month.
Books on the Building of Birchbark Canoes
The books listed below will assist anyone interested in building full size or miniature birchbark canoes.

Bark Canoes and Skin Boats of North America

This is pretty much the "granddaddy" of them all. Edwin Tappan Adney foresaw the disappearance of the birchbark canoe from the landscape of the forest and made it his task to dillegently record for posterity its history, the different styles and how they were built. If you don't own this book I hightly recommend it. I have found it in just about every library I've been to - even in Clearwater, Florida..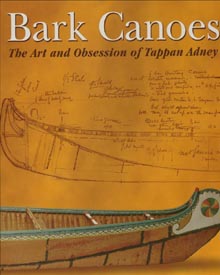 Bark Canoe - The Art and Obsession of Tappan Adney by John Jennings

Adney measured each of the full size canoes that he studied and documented them with detailed drawings in The Bark Canoes and Skin Boats of North America and then made one fifth scale miniatures of these canoes. For years they have been in storage in the Mariner's Museum in Newport News, VA. Ted Behne who is a frequent contributor to the newsletter and one of the best builders of scale miniature birchbark canoes did an article in Wooden Boat Magazine showcasing Adney's canoes. Then John Jennings came out with a beautifully published coffee table book showcasing the whole collection - Bark Canoe, The Art and Obsession of Tappan Adney. If you are interested in building miniatures this book is a great inspiration. Because the canoes are to scale you can't tell that they are not full size. Full color, this is a keeper.

.

Building the Birchbark Canoe, the Algonquin Wabanaki Chiman by David Gidmark

Like all of his books, this one is full of information on the birchbark canoe. It gives the reader a good overall understanding of the birchbark canoes specific to the Algonquin bands of Indians in the western Quebec area. This is where David lived so the information is first hand. It is not a "how to" book as much as it is a "get an understanding" book. It is well written and enjoyable.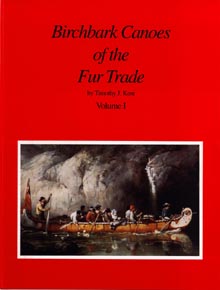 Bark Canoes of the Fur Trade by Tim Kent

This is a two volume set. Tim went to museums where old fur trade canoes were on display, measured them, drew them and noted key details as well as historical accounts of the fur trade itself. It is 686 pages with over 150 photographs, two hundred drawings and reproductions of numerous art works of the fur trade period. It was a big help to me when I made a 26ft voyageur canoe. If you are interested in the fur trade you will like this and other books by Tim.


---
Books Featuring Photos, Drawings and Paintings of Birchbark Canoes
There are many many more that I know of than I am listing here but some of these are either very key or not widely known.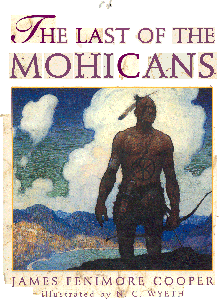 Last of the Mohicans

N.C. Wyeth did the illustrations for the Scribner's classic version. He also did the Deerslayer. This is a children's version of Last of the Mohicans published by Atheneum Books For Young Readers that contains his paintings. These are classic. Nice big prints of Wyeth's illustrations.





The Illustrated Voyageur by Howard Sivertson published by Midwest Traditions

Sivertson is an accomplished watercolor artist from the Grand Marais area of Minnesota. He is widely known in that area. He has done a number of books that depict the area in story and painting. His books feature a painting that illustrates some aspect of history and then he narrates the story. The one on the Voyageurs gives a great basic history of the fur trade in fine paintings. It's a coffee table book that I can assure you will enjoy. Once you've seen this one if you are like me you will be compelled to get his other books.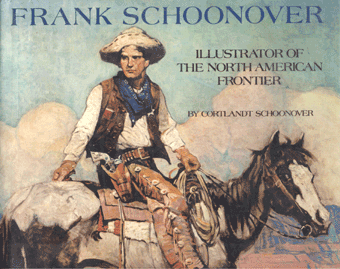 Frank Schoonover, Illustrator of the North American Frontier

The book is written by Schoonover's son Cortlund and primarily features prints with a bit of narrative. Schoonover as a young man spent time in the Hudson Bay area with the Cree and in central Ontario with the Ojibwe. He came from the same school of illustration as N.C. Wyeth, Maxfield Parrish and Philip Goodwin so the quality is there. I am tempted to tear apart my copy so that I can frame some of these prints and put them on the wall - especially of two guys tearing through a rocky chute of turbulent white water in a birchbark canoe.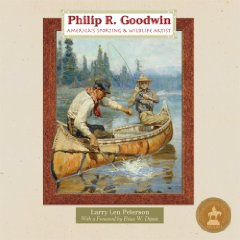 Philip R. Goodwin, America's Sporting and Wildlife Artist

This book was featured in a recent newletter. It's loaded with prints of birchbark canoes. Of all the coffee table books this one is the king of the mountain.


---
Novels of the Fur Trade, the Northwoods, or the woodland Indian
While these books might have illustrations of birchbark canoes in them the writer's allow you to paint your own pictures in your mind. Some of these were written for juvenile audiences 60 to 100 years ago so they would be just about right for most adults today. Sorry kids no books on tape here.

This is the section I really wanted to tell you about. Every once in a while in an antique shop or used book store you stumble upon a rare find. A book that you never knew existed. You might be able to go up on Amazon.com and find it but you would not know to look for it. These books might have been in some school or public library and then got cleared out. Here are a few I would like to share with you.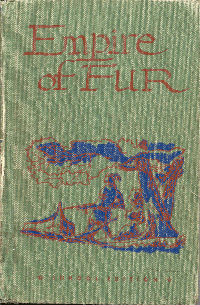 Empire of Fur by August Derleth

This is a hardback kid's book from 1953. It's a story about a young boy who is part of a spy mission into the Boundary Water's lake and river region in the early 1800s. It has a map of the area, illustrations and pulls you right into that world. It's a fun book if you can find it.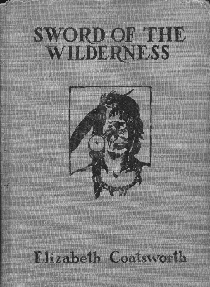 Sword of the Wilderness by Elizabeth Coatsworth

Another juvenile novel about a young boy who has been taken captive after a raid by New England Indians - they don't say what nation. There are illustrations that depict Ottawa River style Algonquins. It's a good adventure story - easy to read, fun. Some good illustrations. Published in 1936.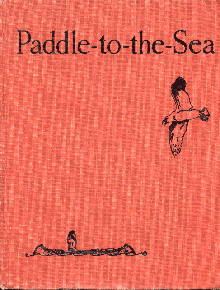 Paddle to the Sea by Holling C. Holling

Published in 1941 I think every Canadian knows of this book but perhaps not the case here in the states. An Ojibwe boy living north of Lake Superior descides one winter day to carve a canoe with a paddler, paint it, attach ballast, and write "Please put me back in water, I am Paddle to the Sea". The canoe is placed on a snow bank on a hill above a beaver pond and during the spring melt slides down in the pond and from that point forward you learn all about the Great Lakes and its activies. Great story and extremely well illustrated. This is one to read to you kids and grandchildren.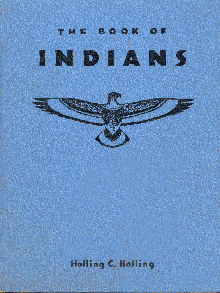 The Book of Indians by Holling C. Holling

He could write and was a gifted artist. He also knew his history. This books tells of Indian life from the standpoint of a young person of each of the major geographical cultures - woodlands, plains, desert, etc. More great illustrations and Holling did some great ones of life in a pre-contact Ojibwe village.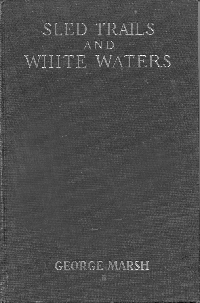 Sled Trails and White Waters by George Marsh

This is a compilation of short stories of the Canadian North Woods. The canoe men - summer and winter at the beginning of the Twentieth Century. It is illustrated by Frank Schoonover. The two corroborated on a number of books. This was written in 1929.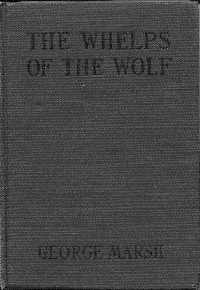 The Whelps of the Wolf

Another book by George Marsh this one a novel. Again set in the Canadian North Woods. Written in 1922. Some other books by Marsh that you might enjoy: Toilers of the Trails; Under Frozen Stars; Men Marooned; The Valley of Voices; Flash the Lead Dog; and The Heart of the King Dog. Many have illustrations by Schoonoever.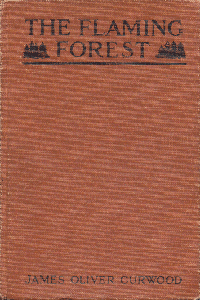 The Flaming Forest by James Oliver Curwood

Published in 1921 it tells of life in the "Three Rivers Country" the Athabasca, the Slave and the MacKenzie. In the last newsletter I mentioned the movie, "The Bear". Curwood wrote the story. He wrote at least 18 more books of the North Woods.

I hope you enjoyed these. Many you can get, though they are in limited supply, through Amazon.com or Ebay.com. As I think you will agree some of these last few are great treasures to have at the cottage or north camp. Enjoy!


---
-----------------------------------------------------------------------------------------
To remove yourself from this list, simply reply to this email with the word "REMOVE" in the subject.
------------------------------------------------------------------------------------------