---
---
My name is John Lindman and I am the proprietor of The Bark Canoe Store as well as a full-time builder of birchbark canoes. I take great pride in seeing that you get the canoe that you want. I know how it is when you have been dreaming of some day paddling your own birch bark beauty - you want it to be just right (need references, just ask). When you order your canoe tell us as much as you can about how you want it done. If you don't know then we can help you out. You can also send us a picture and we will build it to match. Have fun dreaming and when you're ready to wake up give us a call and we'll make it a reality.
Contact us at 509.327.7902 voice or email at john@barkcanoe.com for more information.
Sampling of Recently Commissioned Canoes Built by John Lindman
Click on any of the photos below and see a series of pictures on that particular canoe. 'justify'>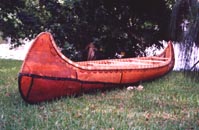 Ottawa War Canoe - This canoe was commissioned by The Little River Band of Ottawa Indians in Manistee, Michigan. It is 17'6" long 40" wide, 13.5" deep at center and the prow height is 30". This is a traditional oldstyle Anishinabe canoe of which the Ottawa were a part. It is currently hanging in the new casino there.
---
---
---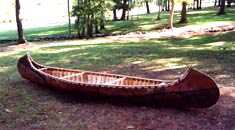 Ojibwe Longnose Ricing Canoe- 15' long, 35" wide, 12.5" deep and 24" prow height. It weighs approximately 50#. It is 4 thwart ricing canoe.
---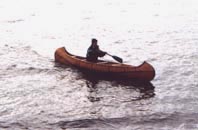 Ojibwe Longnose Hunting Canoe - 13'9" long, 35" wide, 13" deep and 24" stem height. Weighs about 50#.
---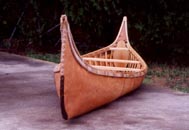 Remington Hunting Canoe - 9ft long, 9" deep, 18" stem height. It was commissioned to duplicate the canoe in Frederick Remington's famous painting, "The Moose".
---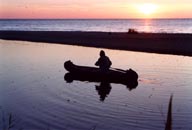 Ojibwe Longnose Hunting Canoe - 14'9" 36" wide, 13" deep, stem height 24". It has a 3 piece hull and scalloped reinforcing bark. It is currently hanging in The Silver Bullet Bar in Bad Gastein, Austria, the site of the 1958 Alpine Skiing World Championships.
Next Page
---



How To Order

Give us a call. I'll be glad to answer your questions. As an added benefit, on canoes that I have personally built, a photo album of the evolution of your canoe is included. I like to think of them as baby pictures.

You can order by credit card, money order or check. You are responsible for shipping costs, however we will be glad to to make the necessary arrangements. There are many options available.

You can also go to our order/information page and tell us what you want and we will get back with you.


509-327-7902 voice 509-327-7989 facsimile john@barkcanoe.com e-mail
Home Canoes Classes Books Tips News and New Stuff Links Consignment Canoes