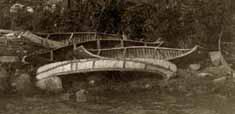 We provide fur trade style paddles, Hudson's Bay style axes, crooked knives, awls, tumplines and pack baskets
to complement your birchbark canoe experience.



SUBSCRIBE TO OUR NEWSLETTER Send an email to john@barkcanoe.com and we will get you on the mailing list.

Also check out NEWS, where we have back copies of earlier newsletters and additional news as to what is happening in the world of birch bark canoes. Please feel free to call us at 509-216-7451 or e-mail us at john@barkcanoe.com to share anything you would like.

Gateway to the Old North Woods

Click on any image to view full size

Paddles



The Bark Canoe Store Brand
We have this paddle specially made for us. It comes in solid white ash and features a 6" wide ottertail blade and a long tapered grip. You can get it unfinished as shown or we will finish it with our formula of boiled linseed oil, turpentine, pine tar and Japan Dryer. It not only protects the wood but gives a traditional look.
Lengths: 63", 66""
Price: $99.95.


Determining the Right Size Paddle
Because some people are long legged while others are long waisted the following formula applies:

1. The shaft length should equal the distance from one's shoulder to the waterline of the canoe. To determine this distance, sit erect on a chair and measure from your chin to the seat.

2. Add 6" to this figure to get the approximate shaft length.
(Assuming you are sitting on a seat in your canoe that is 6" above the waterline. If you kneel you might want to reduce that by a couple of inches.)

3. Thus, someone whose chin to chair measurement is 26" would add 6" to come up with a 32" shaft length. Add 28" which is the blade length on the ash and most of the cherry paddles and that would give you an overall paddle length of 60".


---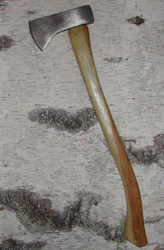 Bark Canoe Brand Hudson Bay Style Axe
1-3/4# Axe Head W/ 28" Hickory Handle.
Price: $59.95. (currently out of stock)


---


Bark Canoe Brand Crooked knives
We have good quality stainless steel knives with hardwood handle. They cut very well.
Price: $29.95.


---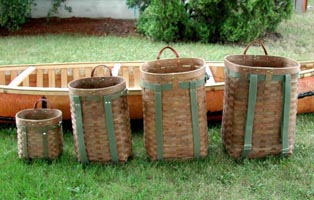 Pack baskets
Hand woven from Maine grown birch and maple with plywood bottoms inside and out for long lasting durability and beauty. Olive drag cotton harness with heavy oiled leather strap. Supplies limited, e-mail or call to check availability.
12 inch $39.95
18 inch Light $79.95
24 inch Standard $109.95
24 inch Trapper $129.95
(currently out of stock)


---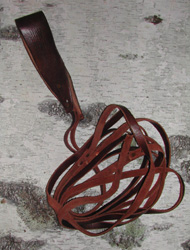 Tumplines
Heavy leather 12ft leather straps and leather headband. If you have not used a tumpline we recommend you try it. When you think of carrying large bulky and excessively heavy loads in the conventional manner the task may seem impossible. With a tumpline it not only is possible but not nearly as painful as you might think. For centuries this is how indigenous people carried everything including their children. These are designed to be an essential part of your gear. For portaging your canoe, your gear, as an extra line for rigging a tarp or lean-to the tumpline is universally functional.
Price: $89.95


---

Awls
Bark awls must have a 3 or 4 faceted point. Round points close the hole when withdrawn whereas faceted points leave the hole wide open. We have them in 1/8th and 3/16th inch diameter shaft depending on the width of the root you plan to use. Hardwood handle.
Price: $15.95


---
How To Order
Give us a call. We'll be glad to answer your questions and help you with your order. You can order by credit card, money order or check.
If we don't have what you are looking for then drop us an e-mail and we will forward you the info.
Give us a call. We'll be glad to answer your questions and help you with your project. You can order by credit card, money order or check.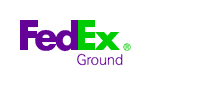 All orders are shipped Fed Ex Ground within 48 hours.
We will do our best to service your order as quickly as possible.
If it must go out the same day a rush delivery handling fee of $10 will be charged.




509-216-7451 voice and fax john@barkcanoe.com e-mail
Home Canoes Classes Materials Tips News and New Stuff Links Consignment Canoes