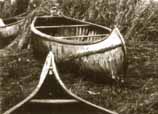 All birch bark canoes are build to be used. They can withstand a lot more abuse than one might think.
After all, it was the birchbark canoethat was used as the primary mode of transportation for both the North American Indians
and the white fur traders throughout the northern woodlands and the sub-arctic regions
up until the beginning of the 20th century. However, if you want super durability then perhaps the fiberglass birch bark replica canoes are the choice.


GENUINE BIRCHBARK CANOES;
USED BIRCHBARK AND REPLICA CANOES;
FIBERGLASS BIRCHBARK REPLICAS
SCALE MODEL MINIATURE BIRCHBARK CANOES.
FUR TRADE AND WAR CANOES

DESIGN:
Our birchbark canoes are custom built which means we can build the exact canoe you have dreamed of in any style or length. We do, however, have standard designs. The first one below moving from left to right is an Ojibwe Longnose; next is an Anishinabe Oldstyle; next is an Abenaki; then a Voyageur.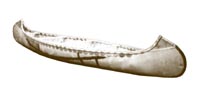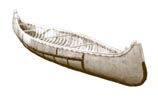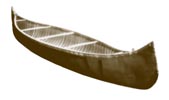 Click on any image to view full size
CANOE GRADES:
Our birch bark canoes are available in two grades.
Premium - Our top of the line model. It is fully lashed with no metal in the canoe.
Sportsman - An affordable alternative much like those built in the early part of the 20th century by Native builders for northwoods sportsmen, thus the name. This is often portrayed in many of the painting of turn of the century illustrator Philip Goodwin. The main difference from the Premium Grade is that with this grade the gunwales are primarily screwed together with stainless steel countersunk screws as opposed to being pegged and lashed and it may have a 3 piece hull instead of a single sheet. During much of the 19th and 20th centuries Indians nailed their gunwales together. This look is what we have with the Sportsman models. We use screws as opposed to nails as they are more functional but the look is the same.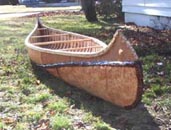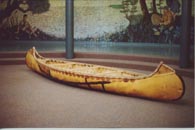 Sportsman on left; Premium on right
Note that those are canoe grades not designs. Each grade is available in any design.

The quality of materials and craftsmanship is never compromised on any of our canoes. Our premium models feature a single sheet of bark for the hull, and both have sitka spruce gunwales, white ash thwarts that are tenoned into the gunwales and your choice of synthetic or pine pitch.

Your canoe comes with "baby pictures" - photos of the building process - plus a repair kit. If at any time a minor problem develops with your canoe such as leaks or broken lashings we will repair them at no charge. Simply bring the canoe to us.

SHOPPING FOR THE CANOE THAT IS RIGHT FOR YOU:
Whether you buy a canoe through us or use another builder check out the quality of their work. We also recommend you ask for the names and phone numbers of their last 3 customers.

Most builders of birchbark canoes care a great deal about making sure their customer is satisfied with their boat. Therefore you are on pretty safe ground with whomever you choose. In most cases the prices reflect the product. A bargain is not always the best value. Talk to the builder directly. The more educated you are the better chance you will have in getting the canoe you really want. We expect you to check around. Give us a call and we will do our best to help you in any way we can.



PRICE:
Premium Grade - $595 per foot up to 20 ft. Over 20 feet $625 per foot. 28 to 34 feet $795 per foot.
Sportsmen Grade - $495 per foot up to 20 ft. Over 20 feet $595 per foot. 28 to 34 feet $695 per foot


Shipping varies depending on your location. You can also arrange to pick up your canoe.

Payments terms -Half up front (a non-refundable deposit) and the balance plus shipping prior to delivery. We take VISA and MasterCard as well as check or money order.




If you do not see a canoe here which conforms to what you have in mind let us know and we can arrange a custom made model. We sometimes have very good deals on used canoes on our Consignment Canoes page.
509-216-7451 voice and text. john@barkcanoe.com e-mail
Home Classes Materials Accessories Tips News and Stuff Links Consignment Canoes